THE RETURN OF KNUT THOMPSON
Nikolaus Neuser - Trompete
Manuel Miethe - Saxophon
Rieko Okuda - piano
Horst Nonnenmacher - Bass
Wieland Möller - Schlagzeug

Knut Thompson bewegt sich immerwährend im immateriellen Raum der Phantasie und kehrt stets klanggeworden zurück, sobald sich die Musiker des Berliner Improvisationsensembles "The Return of Knut Thompson" einmal mehr begegnen.
Und jedes Mal ist es eine einzigartige Rückkehr in die Zukunft mit gewissenhafter Risikofreude und achtsam enthemmter Freiheit.
ROBERT BAUER/WIELAND MÖLLER - Orgel/Schlagzeug
"Lobgesang der Maria" ist eine Duoimprovisation von Robert Bauer an der Orgel und Wieland Möller am Schlagzeug in der Apostel Paulus Kirche Schöneberg im Rahmen der "Organo Vino - von ganz unten" Konzertreihe vom Juli 2021. Hierbei spielen beide Musiker mehrere Hundert Meter voneinander entfernt. Robert Bauer auf der Orgelempore und Wieland Möller im Keller der Kirche. Noch stets spielen sie ausschliesslich über das Hören und loten dabei die Räumlichkeit in ihrer akustischen Bandbreite aus. Vielen Dank für die Einladung an Robert Bauer und Thomas Noll. Vielen Dank auch an Ferdinand Breil für den tollen Sound und an das Filmteam um Matthias Kind Justin Sudbrak für die tolle visuelle Kreation.
DUO TSCHAKRA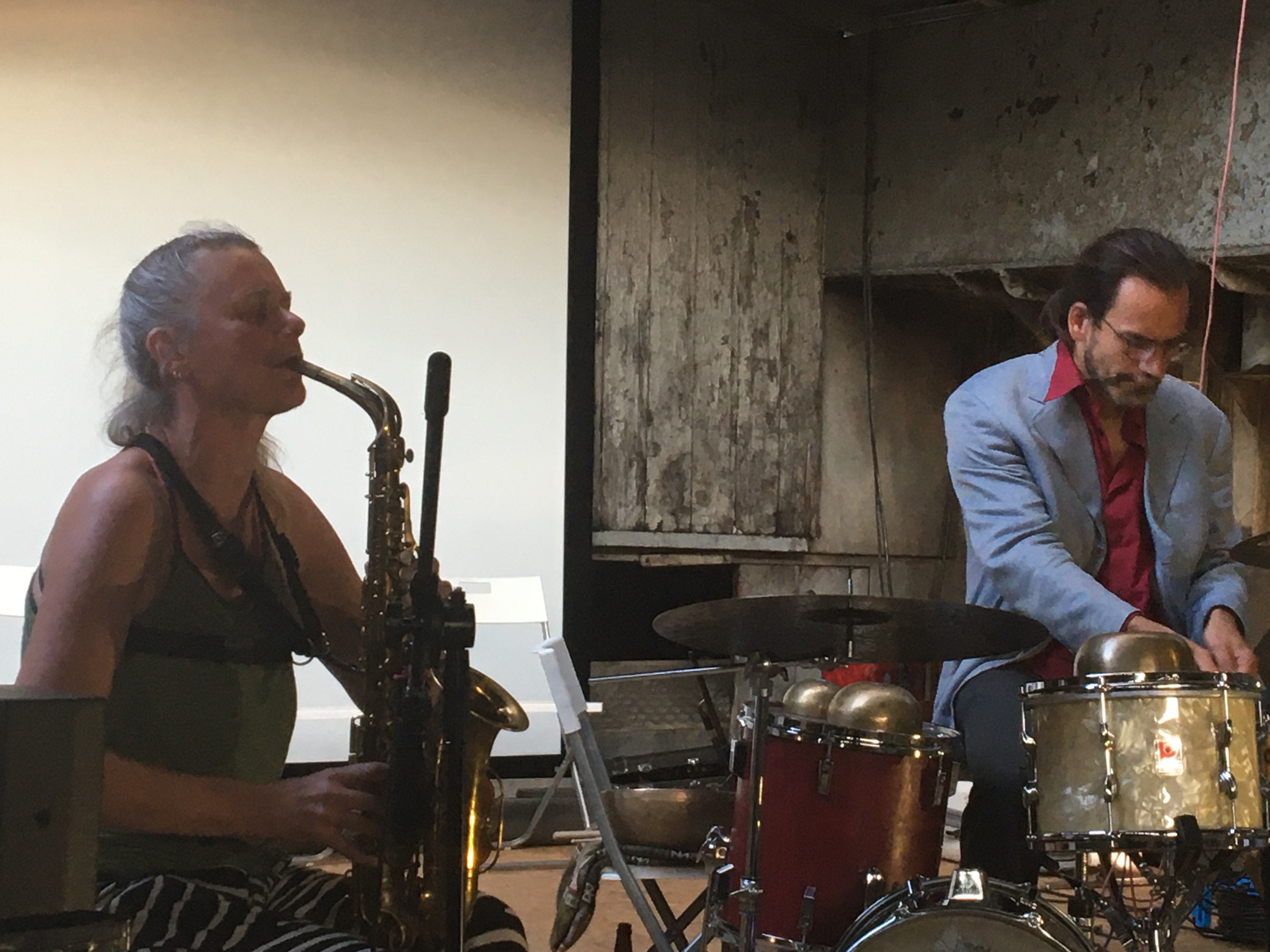 Edith Steyer - Saxophon/clarinet/electronics
Wieland Möller - Drums/Percussion/Gongs
Wieland Möller und Edith Steyer erforschen mit den Holzblasinstrumenten Klarinette und Saxophon, sowie Gongs und Schlagzeug die Klanghaftigkeit ihrer Instrumente und bringen dabei stimmungsvolle und zuweilen meditative Improvisationen hervor. Aufgebrochen werden die mittels Holz und Fellen geschaffenen Klangereignisse von Eruptionen, die rhythmischer oder auch noise-hafter Natur sein können.
KID MUSS RAVEN
Next concert:
21.10.2022 - Jazzfestival in den Ministergärten
Philipp Wisotzki - Synth/Piano/Electronics
Wieland Möller - Drums/Electronics
Tabea Mangelsdorf - voice
PROGRESSIVE-DUBSTEP-NEOSOUL
SANDER BAAN QUARTET
Sander Baan - Saxophones
Sander Thijsen - Piano
Jonathan Nagel - Bass
Wieland Möller - Drums
http://www.sanderbaanquartet.nl
ATOS
Lucas Acuna - Guitar
Goncalo Almeida - Bass
Wieland Moeller - Drums
ATOS Trio is an international contemporary jazz trio based in Rotterdam working for more than six years together. Giving a lyrical/psychedelic but grounded vision on their music. The group is formed by: Portuguese bass player Gonçalo Almeida, Argentinean guitar player Lucas Acuña and the energetic German drummer player Wieland Moeller. Their different backgrounds of different landscapes, is what makes the ATOS Trio original, lyrical, atmospheric and grounded.
https://wielandmoeller.bandcamp.com/track/enero
Kazuhisa Uchihashi/ Michal Gorczynski/Wieland Moeller
Kazuhisa Uchihashi - Guitar/Daxophone
Michal Gorczynski - Bassclarinet
Wieland Moeller - Drums
Concert @ Kühlspot Social Club Octobre 21; 2018
Wieland Möller is a Berlin based drummer, sound artist and performer in the field of jazz, improvised music and contemporary dance.
Bandcamp
| Wielandbookings@gmail.com